SNOBELEN: Canadians deserve same access to health care as their pets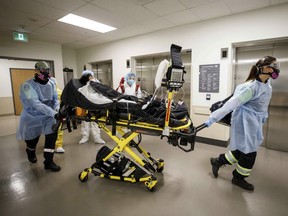 Article content
Those with a little grey hair will remember when Canadian banks opened at 9 a.m., closed at 3 p.m. and shuttered on weekends and 'bank holidays.' If there were just one bank you would probably still line up to get access to your cash
Article content
But banking is at least a little competitive and competition drives innovation, investment and service. These days banking is just a service fee away 24/7.
Article content
Imagine shipping a package from Vancouver to Calgary if Canada Post had a monopoly on couriers. It would take a month and the cost would be staggering. Fortunately, the courier business is a competitive market. Somehow packages get across the country in a day or two.
Competition fuels creativity. In the dark, old single-provider days Canada Post couldn't spell logistics.
Everyone knows this. But brains seem to go foggy when it comes to the monolith we call Canadian health care.
The issues in our much-patched public health-care system are well known. Too much demand, too little care and an upside-down value proposition.
Article content
RECOMMENDED VIDEO
The demand side of the equation is predictable. While our pandemic response exasperated demand, the system has struggled to meet acceptable levels of care for decades. Population growth and demographics will continue to push health-care needs far beyond capacity for more decades to come.
Too little care is also evident. With millions of necessary health-care procedures piled up in the inbox, health-care outcomes will predictably worsen creating a cycle of doom. Welcome to public health care, Canadian style.
While demand and care are heading in separate directions, the value proposition continues to decline. For at least three decades, studies have shown Canadians get middling results for premium-priced health care. The value proposition for Canadian public health is unsustainable, putting future generations of health care at risk.
Article content
Given all this, an average person would come to the startling conclusion something needs to change. Not so your average politician.
The premiers and prime minister have been squabbling over who pays how much with what attached strings. News flash – it doesn't matter to a person caught in an endless cycle of pain waiting for a knee replacement which level of government pays.
Everyone in the health-care system – from provincial health ministers up to hospital nurses filling out interminable reports – knows we need change. Trouble is, those in the system don't have the tools to fix the problems.
The problems are systemic. The Canada Health Act which was intended to provide public health insurance has morphed into a highly regulated, uncompetitive public health delivery system.
Article content
For the past three decades, it's been hard to criticize politicians who ignored the obvious need to make major changes in health care. Canadians had confidence (despite declining service levels) in public health care.
That was then. For the first time in a couple of generations, the politicians are lagging the people when it comes to health care. Most Canadians would embrace a private hospital if they could get better access to health care for their tax dollars.
But politicians are intent on convincing Canadians that propping up a broken system with more money from their federal taxes will finally get people the same access to health care their pets enjoy now.
Good luck with that. We need a federal government with the courage to get out of mandating public health delivery and get back to insuring health care for Canadians.
link