Robotic Process Automation Market Size [2022-2030] Worth
New York, USA, Jan. 09, 2023 (GLOBE NEWSWIRE) — The worldwide robotic process automation market size was USD 3.5 billion in 2021. The value of global market is expected to increase from USD 4.4 billion in 2022 to USD 24 billion by 2030 at a robust CAGR of 27% during the period of 2022-2030. The growing need for automated business processes is one of the main causes driving the increased use of RPA technology. RPA's main objective is to accurately record an organization's operations for effective management. Implementing RPA has benefits, including better internal processes, customer experiences, cost savings, decreased operational risk, and enhanced productivity. These solutions are becoming increasingly important to organizations because they can automate business operations and deal with complex data & information.
Make a Direct Purchase of the latest Robotic Process Automation Market Report published in the month of Dec-2022. Click the below link to initiate the purchase: 
https://www.strategicmarketresearch.com/buy-now/robotic-process-automation-market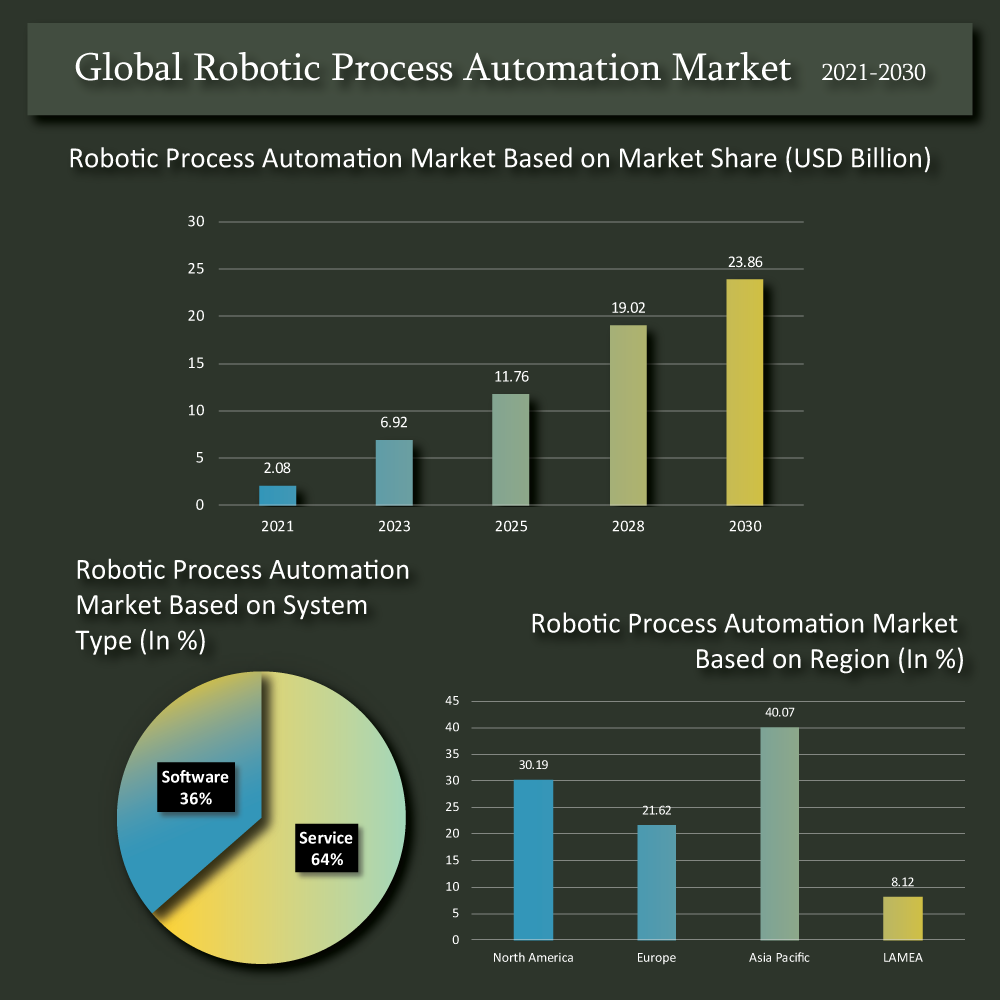 The Robotic Process Automation Market Insights: 
By type, service segment held a maximum market position with 63.66% of the share in 2022.
By deployment in 2022, the on premise segment ruled the market with 80.52% of the revenue share.
In 2022, BFSI segment led the market with a share of 31.22% by application.
Asia Pacific led the regional market in 2022 with a share of 40.07%.
Factors influencing the Robotic Process Automation Market growth: 
Factors like increasing demand for robotic process automation in healthcare and rising adoption of machine learning, AI, and cloud are boosting market expansion.
Robotic process automation is widely utilized in the healthcare industry because it can simulate human interactions, log into applications, move files, fill out forms, and other things. Healthcare providers collect a vast amount of data daily, such as patients' personal details or their treatment course. Firms can collect and alter data utilizing robotic process automation tools to produce analytics that offer priceless insights to make correct diagnoses and treat patients appropriately.
The rapid adoption of advanced technologies like AI, machine learning, and cloud drives the robotic process automation market growth. Companies are increasingly using RPA to automate operations and manage increasingly complicated data. RPA-based cloud and AI technologies are being developed and implemented by enterprises to automatically enhance corporate workflows and procedures.
Segmentation Analysis of Robotic Process Automation Market 
The market segmentation of robotic process automation is done on the basis of type, application, deployment, and region.
By Type
Service

Training
Implementing
Consulting

Software
By Deployment
By Application
Communication &Media 
Energy & Utilities
BFSI
IT & Telecom
Pharma & Healthcare
Logistics
Retail & Consumer Goods
Others
 By Region
North America
Mexico
The U.S.A.
Canada
Rest of North America
Europe
France
Germany
Finland
United Kingdom
Russia
Rest of Europe
Asia-Pacific
India
New Zealand
China
Singapore
Japan
Australia
Rest of Asia-Pacific
Latin America
To get a first-hand overview of the report, Request a Sample at
https://www.strategicmarketresearch.com/request-sample/robotic-process-automation-market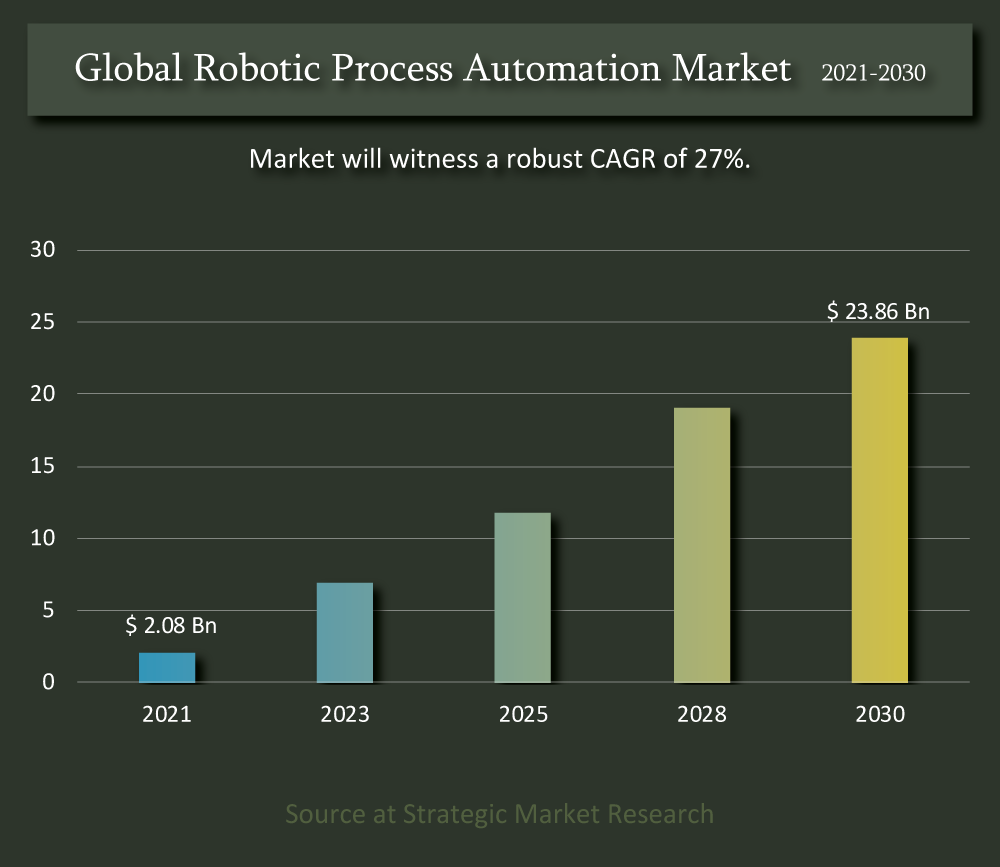 By type, service segment held a maximum market position with 63.66% of the share in 2022. Due to intense competition among businesses, service providers are under pressure to enhance their training and advising services. The need for RPA as a service is driven by ongoing improvements in automation solutions that provide great scalability and reduce cost.
By deployment in 2022, the on-premise segment ruled the market with 80.52% of the revenue share. On-premise RPA, helps in the customization and management of RPA systems for the benefit of the organizations. 
In 2022, BFSI segment led the market with a share of 31.22% by application. Financial institutions and banks can automate business processes, like opening an account, deposits, and loans through RPA in the BFSI sectors to save costs. Additionally, it improves efficiency and speed and provides a deeper understanding of AI integration, which is crucial for BFSI to develop new regulations and services. The expanding financial activity has boosted data volumes and transactions built around older systems that are challenging to incorporate due to rapid internationalization.
Asia Pacific led the regional market in 2022 with a share of 40.07%. Nearly 61.11% of the market share in APAC was owned by China. One of the biggest RPA software producers in China, Cyclone Robotics, has increased its reach by entering the Asia-Pacific regional market. The APAC market growth is driven by Cyclone Robotics' focus on hyper automation, which uses cutting-edge technologies to apply various automation capabilities, like RPA, whether alone or in tandem with ML and AI.
Key RPA platforms delivered by pivotal market players:-
 

RPA Platform

 

Features

 

Companies

New Automata Version 3.0
Offers a wide range of RPA Features, including attended or unattended workflows, rule-based or AI-driven and analytics-based automation, pre-packaged or user-customized workflows, and server-based or desktop automation
OnviSource
RPA Workspace
The world's only cloud-platform  that combines RPA, AI, machine learning, & analytics to automate repetitive operations and generate organisational agility, thereby building stronger customer relationships which drive business success.
Automation Anywhere
PEGA Platform
A powerful, low-code, RPA platform which helps the world's greatest enterprises in AI-powered decision-making & workflow automation to address their most critical business concerns, such as personalising engagement, automating service, and optimising operations.
Pegasystems
To read the summary of the report, visit the website at
https://www.strategicmarketresearch.com/market-report/robotic-process-automation-market
Robotic Process Automation Market key players :
Pegasystems
NICE
Cyclone Robotics
Automation Anywhere
Blue Prism
FPT Software
SS&C Technologies Holdings 
NTT Advanced Technology Corp.
KOFAX, Inc.
Edge Verve Systems Ltd.
OnviSource, Inc.
UiPath
Recent Developments
On January 2023, the leading Gen2 RPA provider, Robocop, launched an improved partner program in order to better assist service providers and partners and give them more success in developing, marketing, and executing Gen2 RPA projects.
On October 2022, SS&C Technologies Holdings announced the introduction of its intelligent automation range under the SS&C Blue Prism brand. BPM, RPA, and low & no-code capabilities are combined by SS&C Blue Prism to give a wide range of intelligent automation services.
Related Reports
Lateral Flow Assays Market
SMR's Lateral Flow Assays Market report provides insights into its challenges, drivers, opportunities, restraints, etc. The market value of the Lateral Flow Assays in 2021 was USD 8.76 billion and will reach USD 12.85 billion by 2030 at a 4.34% CAGR. The growing rate of infectious disease, the rapid growth of the senior population, the growing use of home based lateral flow assay devices, the increasing need for POC devices, need for rapid diagnostic testing for COVID-19 are expanding market growth. Vital participants are Abbott Laboratories, Siemens AG, Danaher Corporation, F. Hoffmann-La Roche AG, etc.
Surgical Robots Market
SMR's Surgical Robots Market Report overview its restraints, drivers, and opportunities. The Surgical Robots Market value in 2021 was USD 5.16 Billion and will be USD 20.98 Billion by 2030, growing at a 16.84% CAGR. Factors like the benefits of robotics assisted surgery, the success rate of RAS, and less life threatening complications are factors driving growth rate. Industry players include Medtronic, Renishaw, Smith & Nephew, Zimmer Biomet, Corindus Vascular Robotics, etc.
3D Cell Culture Market 
S.M.R.'s 3D Cell Culture Market report analyses opportunities, drivers, restraints, etc. The market for 3D Cell Culture in 2021 was USD 1.66 billion and will reach USD 6.46 billion by 2030 at a 16.3% CAGR. The rising rate of infectious disease, growing focus on healthcare quality, and increasing investment are driving market expansion. Major market participants include Lonza, Tecan Trading AG, 3D Biomatrix, Global Cell Solutions, Inc., etc.
Underfloor Heating Market
The Underfloor Heating Market Report provides insights into its challenges, drivers, opportunities, restraints, etc. The market value of Underfloor Heating in 2021 was USD 4.70 Billion, and it will reach USD 8.97 Billion by 2030 at a 7.44% CAGR. The rise in demand for cost effective heating solutions and the increase in the need for a higher level of thermal comfort are boosting the market growth. Key players include Thermosoft, Honeywell, Robert Bosch, WARMUP INC, Mitsubishi Electric, etc.
Digital Biomarker Market 
The Digital Biomarker Market report by SMR provides a detailed overview of factors like restraints, drivers, challenges, opportunities, etc. The market for Digital biomarkers in 2021 was USD 1.51 billion and will be worth USD 23.86 billion by 2030 with a 35.7% CAGR. Rising healthcare spending, government investments, and rising usage of smartphones and smartwatches are boosting the market. Market participants include Alphabet, Inc., Biogen, Inc, Novartis International AG, Mindstrong Health, Happify Health, etc.
Contact Us:
Strategic Market Research LLP.
Sunil Kumar 
US: (+1) 8317045538
UK: (+44) 1256636046
India: +91-8260836500
Email: [email protected]
Web: https://www.strategicmarketresearch.com
Blog: https://www.strategicmarketresearch.com/blog
Press Release: https://www.strategicmarketresearch.com/press-releases
Connect Us:
LinkedIn: https://www.linkedin.com/company/strategic-market-research/
Twitter: https://twitter.com/smrstrategic
Facebook: https://www.facebook.com/StrategicMarketResearch
Instagram: https://www.instagram.com/strategicmarketresearchsmr/


link